IRISH RAILWAY PHOTO-ARCHIVE
The IRRS photographic archive on Flickr contains historical photos of Irish locomotives, trains, stations, coaches and wagons, and is accessible to individual IRRS members only. Membership can be obtained via the Membership Page.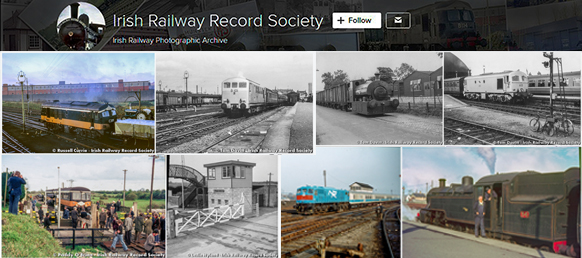 Please send a message via FlickrMail stating your name and IRRS membership number to obtain access (see instructions). Members can also access collections below via Flickr.
British photographer Anthony E Bennett made five trips to Ireland during the years 1955-1967, with his most extensive travels on the Irish railway system been conducted in the years up to 1958, prior to mass line closures taking place. Highlights from this collection include:
Steam traction on CIÉ and the Great Northern Railway.
3ft-gauge County Donegal Railway and Cavan & Leitrim Railway.
Hill of Howth Tramway
Founder member and historian Kevin A Murray, began photographing Irish railways during the mid-1930's, prior to establishing the Society, and remained active taking pictures until the early 1970's. His particular area of interest was the history of the former Dublin & South Eastern Railway. Highlights from this collection include:
Rebuilding of the stations at Dun Laoghaire and Carlisle Pier.
Dublin & South Eastern Railway infrastructure.
Inchicore Works during CIÉ steam and diesel eras.
Patrick J Flanagan's interest in industrial heritage spanned all forms of transport, including railways, buses and canals. A former editor of the Irish Railfan's News, he published numerious books based on his extensive research on many industrial and transport related subjects, including the Cavan & Leitrim Railway. Highlights from this collection include:
Cavan & Leitrim Railway
Dundalk Newry & Greenore Railway (infrastructure)
Steam and diesel traction throughout Ireland.
CIÉ bus fleet
Society member Paddy O'Brien's pictures were recorded primarily during the late 1960's and 1970's, but also features glimpses of CIÉ steam-traction prior to their final withdrawal from active service. Highlights from this collection include:
Longford Derailment (February 1974).
Signalling Infrastructure and CTC Installation.
Permanent-Way Dept activities.
Diagrams showing the track layouts of stations and junctions with signalling details, covering locations on the Midland Great Western Railway, Dublin & South Eastern Railway and Great Southern & Western Railway.
George R Mahon was an early Society member and a meticulous researcher of Ireland's railways; this is reflected in thousands of photographs he recorded throughout the network, including many unusual and obscure locations and subjects, as well as trains and locomotives. Highlights from this collection include:
Comprehensive record of stations, junctions, sidings and industrial sites throughout Ireland.

Detailed infrastructure of former stations, locomotive sheds and yards.

Steam & diesel traction and c

arriage & wagon stock from major Irish railway companies.
John Macartney Robbins was a professional railwayman and founding member of the IRRS. Prior to the formation of the IRRS in 1946, in which he served as the first Hon Secretary, Robbins was a regular contributor of news and photographs to the 'Railway Magazine' of matters relating to Irish Railways. Highlights from his collection include:
Mainline steam-workings on the Great Northern and CIE networks.
Early Great Northern Railway railcar/railbus traction.
Early post-war views of the Irish railway system, north & south.
Victorian & Edwardian carriage stock from various railway companies.
'Bob' Clements was one of Ireland's foremost leading experts on steam locomotives, as well as being a qualified engineer and talented photographer, he being one of the earliest practitioners in the Society when he took up photography in 1924. He was also the first Editor of the IRRS Journal. Highlights from this collection include:
Comprehensive record of Irish steam locomotives, from small to major companies, notably the Midland Great Western Railway, covering 1924-1965.

Detailed photographs of Victorian & Edwardian-era carriages, showing exterior & interior views.

Wide coverage of 3ft-narrow gauge railways, in the north & south of Ireland, including the Lough Swilly and County Donegal systems.

Seldom documented stations and other rail-infrastructure, including Broadstone, Dublin.
This gallery contains small photo-collections which have been donated to the Society's Archive, as well as archive photographs which have been offered by members and guests for display on the IRRS Flickr site (advice on donations to the Society can be found here). Contributors include Eamonn Greville, Jerry Walsh.
IRISH RAILWAY FILM-ARCHIVE
The IRRS Youtube Channel features over 20 archival films of Irish railways recorded by enthusiasts during the 1950s to 1990s. Feature-length films are shown each March at the Annual Film Show at the IRRS's HQ, Dublin – check Dublin Area Meetings for dates.
The accessibility of the photographic & film collections represents the culmination of many years of voluntary work in conserving, cataloguing and digitising undertaken by Ciarán Cooney, IRRS Hon Photographic Archivist, and who has also created and designed the Society's website and social-media channels on which this material is also featured.