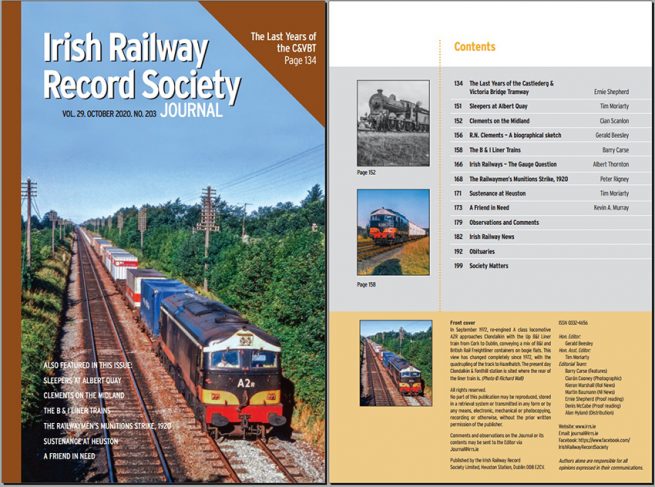 IRRS Journal 203 Published! + More Photo-Archives
The Society's latest Journal, No. 203 (October 2020) has been published and dispatched to members. No. 203 contains the following features:
The Last Years of the Castlederg & Victoria Bridge Tramway, Ernie Shepherd
Sleepers at Albert Quay, Tim Moriarty
Clements on the Midland, Cian Scanlon
R.N. Clements – A biographical sketch, Gerald Beesley
The B & I Liner Trains, Barry Carse
Irish Railways – The Gauge Question, Albert Thornton
The Railwaymen's Munitions Strike, 1920, Peter Rigney
Sustenance at Heuston, Tim Moriarty
A Friend in Need, Kevin A. Murray
Observations and Comments
Irish Railway News
Society Matters
Prospective members wishing to obtain a membership subscription can pay online via the MEMBERSHIP PAGE.
---
IRRS PHOTOGRAPHIC ARCHIVE (new collections)
There are now nearly 5,000 archive photographs, digitised from the Society's archives by the Hon Photographic Archivist, Ciarán Cooney, which have been made available via the IRRS Flickr webpage (members only). The latest collection is from the late member George R Mahon, detailed below. See more archive collections on the Photographs and Films Page.
George R Mahon was an early Society member and a meticulous researcher of Ireland's railways; this is reflected in thousands of photographs he recorded throughout the network, including many unusual and obscure locations and subjects, as well as trains and locomotives. Highlights from this collection include:
Comprehensive record of stations, junctions, sidings and industrial sites throughout Ireland.

Detailed infrastructure of former stations, locomotive sheds and yards.

Steam & diesel traction and c

arriage & wagon stock from major Irish railway companies.
Please follow and like us: