Photobook: "Classic Irish Steam" – Last Orders!
In September 2021, the IRRS published its first A4-sized hardback Photographic Book; "Classic Irish Steam" illustrates Irish Railways during the 1930s-1950s using images from the Society's Photographic Archive, as recorded by the late Bob Clements, J Macartney Robbins and Denis Morris.
There are now only limited quantity of books available to purchase (Members' Price: €36.40 / £31.10 includes P+P to Ireland & UK): Please email membership@irrs.ie to purchase.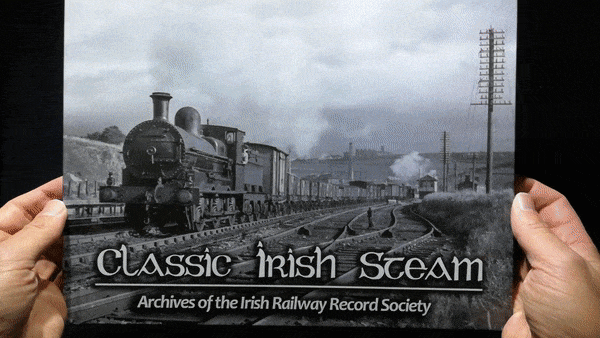 Digitised and carefully restored from their original negatives, which afford superb quality and clarity in A4 format, the evocative photographs encompass all manner of train-workings, ranging from regular main line and branch line passenger & goods services, to the Cork-Dublin-Belfast Enterprises and GAA specials, as well as rarer workings including a Mystery Train special to Cashel! The photographs, nearly all of which are previously unpublished, are accompanied by extended captions that detail the context of the scenes captured.
BOOK REVIEW of Classic Irish Steam as published in the Society's October Journal (No. 206).
---
"Classic Irish Steam" was compiled and edited by Ciarán Cooney, IRRS Hon Photographic Archivist, with additional assistance from members Michael Walsh and David Houston.
Please follow and like us: