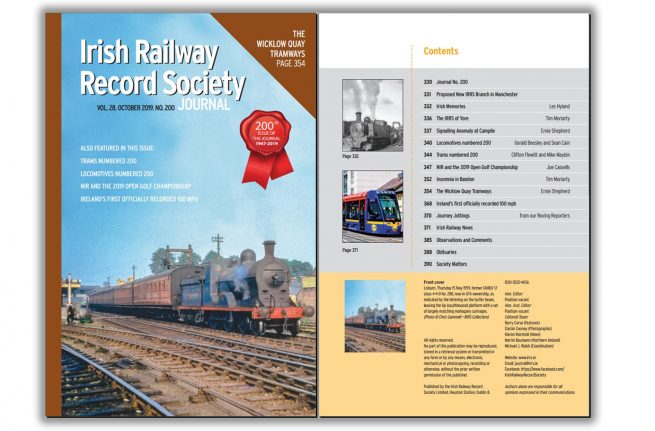 The 200th Journal – Now Published!
IRRS Journal No. 200 (October 2019), the 200th such published since 1947, was finally printed and dispatched to Society members earlier this week. Owing to technical issues, No. 200 was suffered a protracted delay in production. Contents include:
Journal No. 200 – Editorial Introduction
Irish Memories, Les Hyland
The IRRS of Yore, Tim Moriarty
Signalling Anomaly at Campile, Ernie Shepherd
Locomotives numbered 200 Gerald Beesley and Sean Cain
Trams numbered 200, Clifton Flewitt and Mike Maybin
NIR and the 2019 Open Golf Championship, Joe Cassells
Insomnia in Bandon, Tim Moriarty,
The Wicklow Quay Tramways, Ernie Shepherd
Ireland's first officially recorded 100 mph
Journey Jottings from our Roving Reporters
Irish Railway News
Observations and Comments
Obituaries
Prospective Journal subscriptions can be obtained online @ https://irrs.ie/index.php/irrs-membership/
The IRRS programme for 2020, including meetings and outings, will be published shortly.
Please follow and like us: