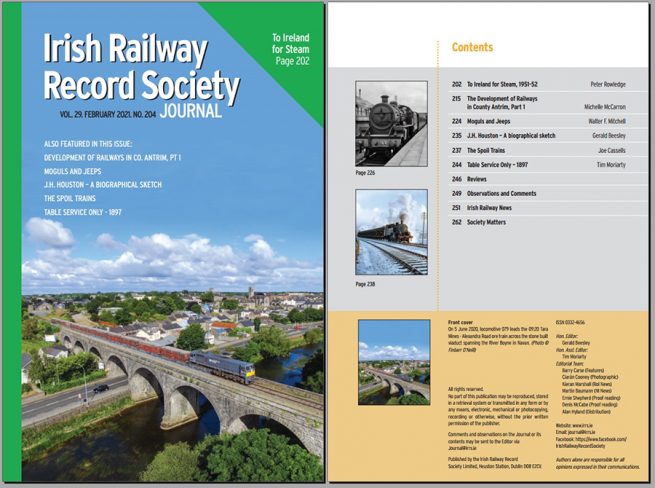 The Society's first Journal of 2021 (No. 204) has been published. Contents include: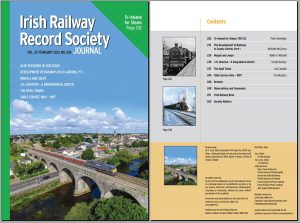 To Ireland for Steam, 1951-52, Peter Rowledge
The Development of Railways in County Antrim, Part 1, Michelle McCarron
Moguls and Jeeps, Walter F. Mitchell
J.H. Houston – A biographical sketch, Gerald Beesley
The Spoil Trains, Joe Cassells
Table Service Only – 1897, Tim Moriarty
Reviews
Observations and Comments
Irish Railway News
Society Matters
Subscription to the IRRS Journal can be obtained online via the Membership Page.
---
IRRS ARCHIVE FILM SHOW – Thursday 18th February 2021 @ 7pm – London Area via Zoom.
Presentation by Ciarán Cooney, Hon Photographic Archivist, of archive films recorded by the late Joe St Leger of Munster's railways during 1960's & 70's; including Youghal, the North Kerry and Ballinacourty lines (plus Loughrea Branch).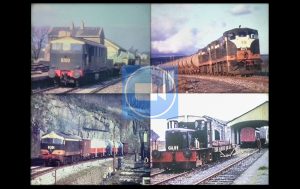 See full programme of IRRS Zoom Meetings for 2021.
ALL MEETINGS ARE ONLINE – HOW TO JOIN THEM:
Details on how to access the meetings will be issued by the host branch a number of days before each presentation to those on the branch's mailing list. If you are not currently on the IRRS mailing list, or that of any of the branches, and wish to be added in order to access any of the above meetings, please send your details (name, email address and IRRS membership number) to:
Main (Dublin) IRRS mailing list: membership@irrs.ie
London IRRS mailing list: irrslondon@hotmail.com
Manchester mailing list: IRRSManchester@gmail.com
If you have received the eNewsletter you are already on the main (Dublin) mailing list and therefore do not need to request to be added to that list. You may wish to be added to the London and/or Manchester mailing lists, in which case you will need to request to join.
Please follow and like us: