More Photo-Collections + 2021 Zoom Meetings
PHOTOGRAPHIC ARCHIVE
Another 1,200+ archive photographs have been added to the Society's Irish Railway Photo-Archive on Flickr, from the
MACARTNEY ROBBINS and DENIS MORRIS collections
, covering the years 1930-1961. Both collections were collated, digitised and edited by Ciarán Cooney,
IRRS Hon Photographic Archivist
. Members can access the photos at the links below
(Members must be logged into Flickr to view the photos)
:
---
IRRS 2021 Meetings (via Zoom)
The Society's programme of meetings for the year 2021 have been published (see Meetings pages for Dublin, London and Manchester or click HERE to download: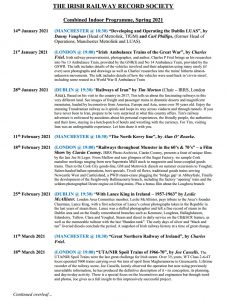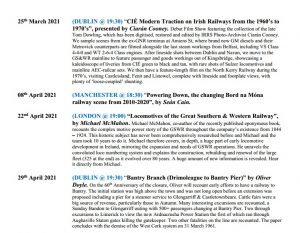 ALL MEETINGS ARE ONLINE – HOW TO JOIN THEM:
Details on how to access the meetings will be issued by the host branch a number of days before each presentation to those on the branch's mailing list. If you are not currently on the IRRS mailing list, or that of any of the branches, and wish to be added in order to access any of the above meetings, please send your details (name, email address and IRRS membership number) to:
Main (Dublin) IRRS mailing list: membership@irrs.ie
London IRRS mailing list: irrslondon@hotmail.com
Manchester mailing list: IRRSManchester@gmail.com
If you have received the eNewsletter you are already on the main (Dublin) mailing list and therefore do not need to request to be added to that list. You may wish to be added to the London and/or Manchester mailing lists, in which case you will need to request to join.
Please follow and like us: